Lets start off with the Georgia Notre Dame match up. With Irma coming in hot on the east coast this weekend, Georgia fans are loving their first trip north of the Mason Dixon line in the last 60 years. But that's not the only game they came to see. With the Falcons playing the Bears Sunday, a lot of UGA fans are up in Chicago. They made their presence be heard in Wrigley on Friday.
@RadiNabulsi some videos I got Radi pic.twitter.com/wieoxMxmYl

— Jeff McGowan (@sic_em_dawgs5) September 9, 2017
Now the rest of the games.
Michigan started Saturday off with a bomb.
Speight to Crawford for the first Michigan score #GoBlue pic.twitter.com/8GkTKLnOqd

— Michigan Sports Zone (@MichSportsZone) September 9, 2017
Purdue had a double flea flicker, which led to a score.
DOUBLE. REVERSE. FLEA. FLICKER.

Cole Herdman punctuates the @BoilerFootball trickeration with a 💯 end zone dive: https://t.co/mo7X0SEYOK

— Big Ten Network (@BigTenNetwork) September 9, 2017
Clearly Kentucky is proud of their institute for higher education.

Iowa tied it up late in another great Cyhawk game.
DETERMINATION pic.twitter.com/nRA1L8X0Hr

— Sports Illustrated (@SInow) September 9, 2017
Maryland was up big, but that didn't stop D.J. Moore from giving up on this fantastic run.
D.J. MOORE YOU ARE RIDICULOUS. pic.twitter.com/HO1B6jPUsW

— Jared Goldstein (@_jgoldy17) September 9, 2017
Wisconsin RB Jonathan Taylor could not be stopped either.
JT is bringing sexy (runs) back#OnWisconsin || #Badgerspic.twitter.com/voCWSo89k4

— Wisconsin Football (@BadgerFootball) September 9, 2017
Lamar Jackson, showed why he should win the heisman one more time.
Lamar Jackson with the bomb! Louisville is ready for a shootout. #Louisville pic.twitter.com/L32Rlo14jt

— The Game Haus Sports (@TGHSports) September 9, 2017
Michigan's halftime show was Jurrasic Park themed, so obviously this happened.
Michigan's marching band played the theme from Jurassic Park fully equipped with dancing T-Rex 😂😂😂

(via @chengelis) pic.twitter.com/p84e1dlbh1

— NBCSN (@NBCSN) September 9, 2017
Later in the day, the shootout between Oregon and Nebraska, we had the best catch of the day.
Both Nebraska and Oregon had super excellent (and similar!) TD catches in the 1Q alone https://t.co/LWaN5huj6p pic.twitter.com/cPdWmajHqv

— SB Nation CFB (@SBNationCFB) September 9, 2017
But no college football is complete without some nasty hits.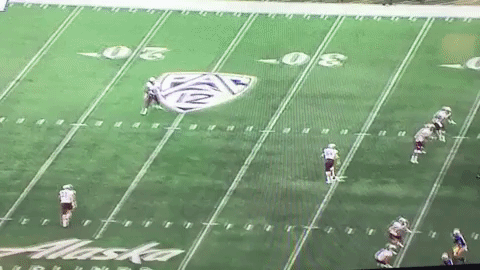 Ron'quavion Tarver had the nastiest stiff arm of the night. #USU pic.twitter.com/2Q3vmfbQsI

— Matthew L Glade (@matthewLksl) September 8, 2017
There were couple of one handed catches and one spectacular interception.
We 👀 you Bobo! #TXSTvsCU

Watch: https://t.co/YfMNDWtSGW pic.twitter.com/fOAJybKLrq

— Pac-12 Network (@Pac12Network) September 9, 2017
WHAT. A. CATCH. Terry Godwin #UGAvND pic.twitter.com/EtiAStt8Vf

— Courtney Jasmin (@CourtneyWESH2) September 10, 2017
👀@LSUFootball's Kary Vincent Jr. with the fithy One-Handed Pick! #SCtop10 pic.twitter.com/7R0f26cfQH

— SEC Network (@SECNetwork) September 10, 2017
Pac 12 after dark showed up huge with huge plays on 3rd and long. Both in the same game.
Enjoy Rashaad Penny logging 33 of his 329 all-purpose yards tonight. #OneCityOneTeam #Win22 pic.twitter.com/4EFw11R5CX

— SDSU Football (@Aztec_Football) September 10, 2017
#Pac12AfterDark has reached Tempe!

Frank Darby with a TD catch on a 3rd-and 37 for @FootballASU!

Watch #SDSUvsASU: https://t.co/YfMNDWtSGW pic.twitter.com/EU5A75XpL2

— Pac-12 Network (@Pac12Network) September 10, 2017
But the cake goes to Baker Mayfeild planting the OU flag in the middle of the horseshoe after OU routed the buckeyes.


Fail of the Week: This goes to the botched snap from Louisiana Tech
3rd & 93 upcoming…#HailState pic.twitter.com/ysNOd1QpmM

— MSU Football 🏈 (@HailStateFB) September 10, 2017